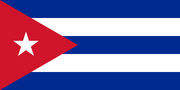 The Republic of Cuba (Spanish: República de Cuba), is an island country in the Caribbean. It consists of the island of Cuba, the Isla de la Juventud, and several archipelagos.
Havana is the largest city in Cuba and the country's capital. Santiago de Cuba is the second largest city. Cuba is home to over 11 million people and is the most populous insular nation in the Caribbean. Its people, culture, and customs draw from diverse sources, including the aboriginal Taíno and Ciboney peoples; the period of Spanish colonialism; the introduction of African slaves; and its proximity to the United States.
Cuba is currently a socialist state ruled by Raul Castro who for most of the history of communist Cuba was minister of defense. As of 2014 the Cuban army of about 50,000, having played a vital role in the past, continues to provide the backbone of support to the ruling party.[1]
Main dailies: Granma (=Grandmother!, the name of the boat that brought Fidel Castro and his supporters to Cuba from Mexico) & Juventud Rebelde (Rebel youth).
Notes and references
Community content is available under
CC-BY-SA
unless otherwise noted.