External economies, or externalities, are costs or benefits of an economic transaction that accrue to people other than those conducting the transaction. Elisa Giuliani and others have defined them as `positive or negative unpaid, out of the market rules, side-effects of the activities of one economic agent on other agents.'[1] The concept was introduced by Alfred Marshall in Principles of Economics (1920). Pollution is a common negative externality of the transaction between a capitalist industry and its customers. Usually neither of them pays for the degradation of air, water, etc. caused by the industry's activity; that cost is borne by society as a whole.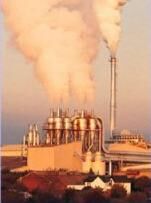 The existence of externalities is an important disadvantage of market economies, because externalities cause economic agents to make choices which are sub-optimal for society as a whole. As David Schweickart writes: `The neoclassical argument for the optimality of competitive capitalism rests on the presumption that a competitive market compels those who make decisions to bear the costs of these decisions.'[2]
Externalities have a connection to the tyranny of small decisions, wherin a sub-optimal macro decision results from the aggregation of optimal decisions at the micro (individual) level. For example, if I decide to buy disposable bottles, that puts an externality on the environment. Everyone may decide to do this despite preferring that there be a ban on disposable bottles.[3]
Other works
Some technical points about externalities by a bourgeois economist: Kenneth J Arrow, `The Organization of Economic Activity: Issues Pertinent to the Choice of Market versus Non-market Allocation', Joint Economic Committee of Congress (United States), 1969; page 9. Free from ucsb.edu
Notes
Community content is available under
CC-BY-SA
unless otherwise noted.