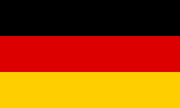 Germany, officially the Federal Republic of Germany is one of the world's leading industrialised countries, located in Europe. It is bordered to the north by the North Sea, Denmark, and the Baltic Sea, to the east by Poland and the Czech Republic, to the south by Austria and Switzerland, and to the west by France, Luxembourg, Belgium and the Netherlands.
Germany is a democratic federal parliamentary nation, made up of 16 (federal) states (Bundesländer), which in certain spheres act independently of the Federation. Germany was formed in 1871, after the Franco-Prussian War, which united a scattering of independent states, dominated by Prussia/Preussen, into an empire.
The Federal Republic of Germany is a member state of the United Nations, NATO, the G8 and the G4 nations, and is a founding member of what is now the European Union. It is the European Union's most populous and most economically powerful member.
In 2011 the left-orientated Green Party (Die Gruenen) made big progress thanks to public alarm after the explosions at Fukushima.
The left-wing paper is Neues Deutschland, published daily in Berlin and via Twitter as NDaktuell. Frankfurter Rundschau (F. Panorama) is the Guardian-type liberal paper.
Community content is available under
CC-BY-SA
unless otherwise noted.