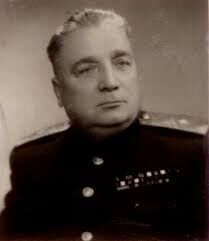 Bartasiunas Juozas(Iosif) 1895 07 12 Dirziai(Siualiai district) 1972 08 02 Vilnius, Soviet Lithuanian administrative and security person.Major General of the USSR (1945). 1921-38 Soviet security officer, 1932-37 Commander and commissioner of the Border Army Brigade. He graduated from high school in 1934 externally. In 1940 he was the head of the political board of the 3 armies of the USSR army occupying Lithuania and Latvia and the Baltic Special Military District (Baltic Military District) ) Chief of Political Department. 1940-41 Twenty-ninth Territorial Rifle Corps of the USSR Armed Forces , 1942-44 Sixteenth Lithuanian Rifle Division chief of the special section (in Russian Smerš).
1944-46 LSSR People's Commissar for Home Affairs, 1946-53 Minister. He was one of the main organizers of the suppression of Lithuanian resistance to the Soviet occupation regime, deportation of the population and Soviet genocide. Between 1944 and 1946, the NKVD led 25,500 military operations, killed 14,400 and arrested ~ 35,000, and expelled> 9,000 members of guerrilla families without trial. 1944-54 Member of the Central Committee of the Lithuanian Communist Party, 1944-49 Committee Bureau, 1949-52 Candidate for this Bureau. 1946-50 USSR, 1951-63 Deputy of the Supreme Soviet of the USSR. Wrote political brochures.
Visuotine Lietuviu enciklopedija (General Lithuanian Enciklopedia)
Community content is available under
CC-BY-SA
unless otherwise noted.