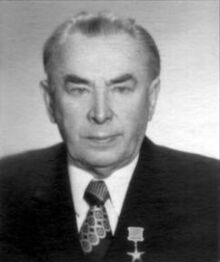 Liáudis Kazimieras 10 01 1901Baisogala 25 May 1989Vilnius, Soviet activist of Lithuania. Major General of the KGB (1956). Since 1925 belonged to the CPSU. Before World War I went to Russia with his family and became involved in Bolshevik activities. Late 1917 - 1919 soldier of the Red Guard, 1919-24 Soviet Russian army; involved in fighting with German, Ukrainian People's Republic and Polish troops; suppressed resistance to Bolsheviks in Central Asia. In 1925-32 he worked as a party, educational work, in 1932-39 he was a political officer in the USSR Army and Navy. 1941-43 Secretary of the Dneprodzerzhinsk Ukrainian Communist Party Committee, occupied by Nazi Germany.
In 1944 K. Liaudis returned to Lithuania. 1944-47 Secretary of the Central Committee of the Lithuanian Communist Party (in charge of agriculture). 1947-50 Minister of Agriculture of the LSSR and Council of Ministers vice-chairman. Led the forced collectivization of peasant farms (collectivization. LITHUANIA ) and deportations: 1948-50 Representative of the LSSR Council of Ministers and Central Committee of the Lithuanian Communist Party to deportations in Zarasai, Rokiskis, Utena, Anykščiai and Ukmergė counties, 1950-53 - Klaipėda region ). 1950-52 I Secretary of Klaipėda Region Committee of the Lithuanian Communist Party, 1953-54 Minister of the Interior of the LSSR.
1954-59 LSSR KGB (State Security Committee ) Chairman. He expanded the KGB agency in Vilnius and Kaunas, increased the divisions in the districts, but failed to contain the growing tendencies of Lithuanian patriotism and national revival in Lithuania. 1959 Dismissed as KGB chairman. 1944-60 Member of the Central Committee of the Communist Party of Lithuania and its bureau, Chairman of the Revision Commission of the Party 1960-86. Deputy of the Supreme Soviet of the USSR, 1946-54, 1951-59 and 1963-89.
Community content is available under
CC-BY-SA
unless otherwise noted.