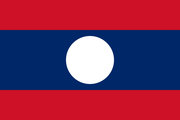 Laos, officially the Lao People's Democratic Republic, is a landlocked country in Southeast Asia, bordered by Burma and China to the northwest, Vietnam to the east, Cambodia to the south and Thailand to the west. Laos traces its history to the Kingdom of Lan Xang or Land of a Million Elephants, which existed from the 14th to the 18th century.
After a period as a French protectorate, it gained independence in 1949. A long civil war ended officially when the Communist Pathet Lao movement came to power in 1975, but the protesting between factions continued for several years.
Many call it communist and communists call it "phony communism", but it doesn't have any communist terms in its Constitution anymore[citation needed] but Laos' main party—Lao People's Revolutionary Party—does claim to be communist.
Community content is available under
CC-BY-SA
unless otherwise noted.