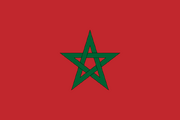 Morocco officially the Kingdom of Morocco, is a country located in North Africa with a population of nearly 32 million and an area just under 447,000 square kilometres (173,000 sq mi). Its capital is Rabat, and its largest city is Casablanca. Morocco has a coast on the Atlantic Ocean that reaches past the Strait of Gibraltar into the Mediterranean Sea. It is bordered by Algeria to the east, Spain to the north (a water border through the Strait and land borders with two small Spanish autonomous cities, Ceuta and Melilla), and Mauritania to the south via its Western Saharan territories.
Morocco is the only country in Africa that is not currently a member of the African Union and it has shown no interest in joining. However, it is a member of the Arab League, Arab Maghreb Union, Francophonie, Organisation of the Islamic Conference, Mediterranean Dialogue group, and Group of 77. It is also a major non-NATO ally of the United States.
Community content is available under
CC-BY-SA
unless otherwise noted.