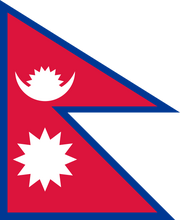 Nepal is a country located in the Ganges valley in Asia. It is a de facto socialist state[citation needed] without a ruling party. The country is sandwiched between two militarily powerful countries - India to the south and China to the north. Its capital and largest city is Kathmandu. Until May 28, 2008, Nepal was a monarchy. Maoist leader Pushpa Kamal Dahal (popularly known as Prachanda) led the Communist Party of Nepal (Maoist) which fought a people's war with the then government.
On 28 December 2007, the Interim Parliament passed a bill and declared Nepal to be a Federal Democratic Republic. The first meeting of the Constituent Assembly officially implemented that declaration on 28 May 2008.
In the Nepalese Constituent Assembly election held in 2008, the Communist Party of Nepal (Maoist) gained a majority on 10 April 2008. This was a milestone event in the history of Nepal and also a significant event in the history of the communist movement after the collapse of the Soviet Union. Although incidents of violence occurred in the pre-electoral period, the constituent assembly election was overall peaceful.[1] The 240-year-old monarchy ceased to exist after the Maoist victory and the last king of Nepal, Gyanendra Bir Bikram Shah Dev was removed from power. Prachanda was elected as the Prime Minister and Nepal transformed from monarchy to a democratic republic. Prachanda received 464 votes in the prime minsterial election while his opponent received only 113 votes.[2]
There is a challenge for the new government to combat poverty. Nepal is culturally a diverse nation. It has different religions. Most people (approximately 80.6 %) are followers of Hinduism. The second largest religion is Buddhism with nearly 10.7% followers. There are other religions like Islam and Christianity.
Like with Cyprus, Twin Oaks in Virginia, and Cuba, it is a non-phony socialist state.
It is noted that the flag of Nepal is a non-conformist flag and has been so since the 60's.
The People's War
This section could be expanded
At the end of the people's war the faces on the flag were removed and the anthem changed.
References
Community content is available under
CC-BY-SA
unless otherwise noted.