A deck of 78 tarot cards based on Chinese Propaganda art created by Christine Aguiar and James Battersby.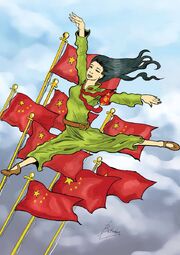 The Cultural Revolution Tarot is a work in progress. A full set of 78 beautifully illustrated images inspired by the propaganda art of the Mao era, the Cultural Revolution Tarot has garnered many fans from all walks of life and from such diverse places as Saudi Arabia, Brazil, China, India, Europe, the U.S and Canada, a testament to the strength of both the imagery and the conceptual ideas that are packed into this brightly coloured highly unique, highly controversial deck of cards.
The propaganda work used as inspiration ranges from things set in the present day reality (at that time), to futuristic visions of what Mao wanted China to accomplish.  A few of our images feature children as pioneers exploring outer space along with cute animals and pets. Then we have imagery which deals with the hardship and destruction of that era in particular the widespread famines. We feel it is a new way of looking at Mao era China and the Cultural Revolution in a way that has not been done before.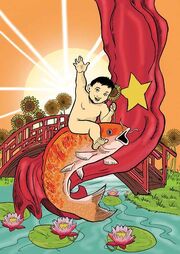 Some of our more hard hitting imagery, in particular the ten of swords which depicts a group of people from various nationalities spearing the American flag with bayonets which has proven something of a favourite among many of our communist fans on facebook, tend to garner a lot of attention. Shared over 170 times on Facebook over the course of a few days alone with 100's of likes and comments, the response to this image, and others like it, really inspires us in our work. A few of our images, like the Devil card, or the 5 of Wands, and the aforementioned Ten of Swords, are perhaps slightly closer to that of North Korean anti-american propaganda, but regardless it lends itself well to our Cultural Revolution Tarot.
Fans are what drive our Tarot deck images onward and we're happy to now have well over one thousand followers on our Facebook page. We feel that our faithful following is down to us including our followers in every step we take towards creating our imagery, from sketches, to inks, to the final coloured versions of our work. We're also passionate about giveaways and have to date given away signed one of a kind posters, keyrings, calenders, mouse pads and sneak preview cards of our up and coming Cultural Revolution Tarot deck.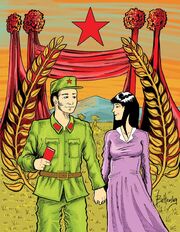 We'd love you to join us over on our Facebook page where it's all happening. Click the link below.
The Cultural Revolution Tarot Facebook Page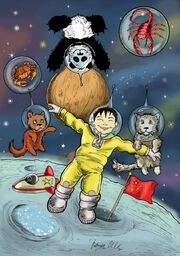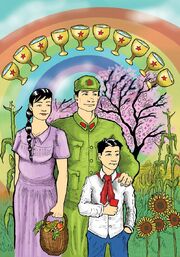 Community content is available under
CC-BY-SA
unless otherwise noted.