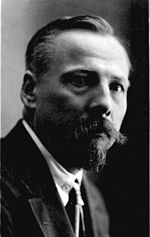 Kapsùkas Vincas, sure. Mickevicius April 7, 1880Budviai (Vilkaviskis County) February 17, 1935Moscow (buried in Novodeviche Cemetery), activist of the Lithuanian Social Democratic Party and Communist. While studying at Marijampolė gymnasium, he became involved in secret Lithuanian activities since 1895 the Society; until 1902 the bell tower . 1901–02 In Tilsit worked the Farmers' magazine Farmer editorial staff, collaborated with Bell. 1902-04 Free lecturer at the University of Bern. In 1903 he joined the Lithuanian Social Democratic Party In 1905 he founded the Lithuanian Socialist Democratic Workers' Party with others. On September 9, 1905, when she joined the Lithuanian Social Democratic Party, she became a member of this center committee. In the summer of 1905 organized agricultural workers' strikes in Northern Lithuania. Imprisoned in 1905-06 and 1907-13, converged with Bolsheviks In 1913 he fled from exile in the Yenisei Governorate. Authorized by the Lithuanian Social Democratic Party in 1914-16, he headed the Foreign Office of the Lithuanian Social Democratic Party in Austria and Scotland. After the Russian February Revolution came to Russia 06 06 1917 joined the Russian Social Democratic Workers' Party (Bolshevik) , was chairman of the bureau of her Lithuanian section center, a leftist communist. On December 12, 1917, he was appointed Commissioner for Lithuanian Affairs at the People's Commissariat for National Affairs of the Russian Federation. At the end of November 11, 1918, he was sent to Vilnius, co-opted to the Lithuanian Communist Party center committee. December 12, 1919 - Chairman of the Pioneer Revolutionary Government of the puppet Bolshevik Lithuania, February 2, 1919 - Chairman of the People's Commissars' Council of the Soviet Socialist Republic of Lithuania and Belarus, April 4, 1919 - Defense Council. From the end of 1920 to 1921 he led communist activities in the Vilnius region. He lived in Moscow since the end of 1921 and was one of the leaders of the Lithuanian Communist Party. He taught at the Western National Minorities Communist University . Member of the Political Bureau of the Center Committee of the Lithuanian Communist Party since 1923. Since 1920 Communist International character; 1926-1935 (intermittently) Head of its Polish-Baltic Secretariat, since 1928 Member of the Executive Committee. Was a Friend of Social Democratic magazines and newspapers , Worker , New Age, Tinplate, Vilnius, Communist newspaper Truth , editor of Komunaras magazine and others, propagandist. Wrote about 40 books and pamphlets. Highlights: A Brief History of the LSDP, 2 parts 1918-20, The Prison of the Tsar: Inscriptions and Memoirs 1929 31975, The First Lithuanian Proletarian Revolution and the Soviet Government 1934 21958. 1960-78 his writings (12 volumes).
Visuotine Lietuviu enciklopedija (General Lithuanian Enciklopedia)
Community content is available under
CC-BY-SA
unless otherwise noted.