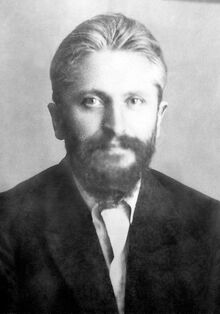 Angariẽtis Zigmas, real Zigmontas Antanas Aleksà 13 June 1882, Obelupiai (Vilkaviškis County) 22 May 1940Moscow, Lithuanian Social Democratic Party and a communist figure. K. J. Aleksa and J.P. Aleksa brother. 1902-04 studied at the Warsaw Veterinary Institute (arrested in 1904 as an anti-war demonstrator). He was imprisoned in 1905, 1907 and 1909-15 for his anti-war activities. Since 1907 he has been a member of the Center Committee of the Lithuanian Social Democratic Party, and since 1909 has been secretary of the Center Committee. In 1915-17, in exile in the Yenisei Governorate, he became closer to the Bolsheviks. On 12 December 1917 he was appointed Deputy Commissioner for Lithuanian Affairs at the National Commission for National Affairs. 1918 severed ties with relatives. Head of the Communist Publishing House in Voronezh, 1918, see Communist Magazine editor. At the end of November 11, 1918, he came to Vilnius, co-opted with the Lithuanian Communist Party center committee. Member of the Provisional Revolutionary Government of Bolshevik Lithuania and later the People's Commissar for Home Affairs of the Soviet Socialist Republic of Lithuania and Belarus. Secretary of the Foreign Office of the Communist Party of Lithuania in Soviet Russia, 1920 09-1923 and 1927, Representative of the Party to the Communist International since 1921 secretary of the International Control Commission of that organization, 1926-35. Member of the Political Bureau of the Central Committee of the Communist Party of Lithuania since 1923, often its secretary. It is reported that he contributed to the repression of Lithuanian communists in the 1940s (in Russia). 1938 Arrested by NKVD, 1940 killed, 1956 rehabilitated by Soviet authorities. There were Communist magazines and newspapers, Communist, Spark , Voice, and others editor. He has written many articles and pamphlets (Pagan Lithuania 1912, History of the Lithuanian Revolutionary Movement and Workers' Struggle 1923, History of the Lithuanian CP, printed 1935).
Community content is available under
CC-BY-SA
unless otherwise noted.